Special Offer: Parking in Buffalo up to 25% off
We are excited to be able to offer airport parking to our guests in Buffalo up to 25% off or $7.46 USD/day for a week or more*! Simply follow these two easy steps…
Step 1: Click on the button below and print this special coupon. Take it with you when you park, and give it to the cashier at checkout.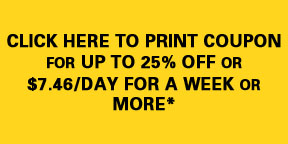 Step 2: Make a reservation at our lot in Buffalo. When you make your reservation, no need to do anything with your coupon in advance. Just have it ready to give to the cashier at checkout, and your estimate from your reservation will be adjusted at that time.

We look forward to seeing you soon!