The Parking Spot welcomes our friends from
State of Arizona Employee
Create your State of Arizona Employee Spot Club Exec account

Create Your Account
My Account
{"airports":[{"code":"ATL","name":"Atlanta Hartsfield Airport","spots":2,"market":"Atlanta","sub":null,"locations":null,"center":{"latitude":33.636667,"longitude":-84.428056},"url":"/locations/atlanta/atl","city":"Atlanta","airportUrl":"/locations/atlanta/atl","couponButtonText":"See Atlanta offers","mobileCouponButtonText":"Reserve to save!","isMarketComingSoon":false,"couponRadius":0.0},{"code":"AUS","name":"Austin-Bergstrom International Airport","spots":2,"market":"Austin","sub":null,"locations":null,"center":{"latitude":30.194444,"longitude":-97.67},"url":"/locations/austin/aus","city":"Del Valle","airportUrl":"/locations/austin/aus","couponButtonText":"See Austin offers","mobileCouponButtonText":"Reserve to save!","isMarketComingSoon":false,"couponRadius":0.0},{"code":"BWI","name":"Baltimore Washington International Thurgood Marshall Airport","spots":1,"market":"Baltimore","sub":null,"locations":null,"center":{"latitude":39.1753488,"longitude":-76.6683307},"url":"/locations/baltimore/bwi/the-parking-spot","city":"Linthicum Heights","airportUrl":"/locations/baltimore/bwi","couponButtonText":"See Baltimore offers","mobileCouponButtonText":"Reserve to save!","isMarketComingSoon":false,"couponRadius":0.0},{"code":"BUF","name":"Buffalo-Niagara International Airport","spots":1,"market":"Buffalo","sub":null,"locations":null,"center":{"latitude":42.940556,"longitude":-78.732222},"url":"/locations/buffalo/buf/the-parking-spot","city":"Buffalo","airportUrl":"/locations/buffalo/buf","couponButtonText":"See Buffalo offers","mobileCouponButtonText":"Reserve to save!","isMarketComingSoon":false,"couponRadius":0.0},{"code":"CLT","name":"Charlotte Douglas International","spots":1,"market":"Charlotte","sub":null,"locations":null,"center":{"latitude":35.220969,"longitude":-80.944215},"url":"/locations/charlotte/clt/the-parking-spot","city":"Charlotte","airportUrl":"/locations/charlotte/clt","couponButtonText":"GET THE COUPON","mobileCouponButtonText":"$5.95/DAY","isMarketComingSoon":false,"couponRadius":0.0},{"code":"CMH","name":"John Glenn Columbus International Airport","spots":1,"market":"Columbus","sub":null,"locations":null,"center":{"latitude":39.998056,"longitude":-82.891944},"url":"/locations/columbus/cmh/the-parking-spot","city":"Columbus","airportUrl":"/locations/columbus/cmh","couponButtonText":"See Columbus offers","mobileCouponButtonText":"Reserve to Save!","isMarketComingSoon":false,"couponRadius":0.0},{"code":"DAL","name":"Dallas Love Field Airport","spots":2,"market":"Dallas","sub":null,"locations":null,"center":{"latitude":32.847222,"longitude":-96.851667},"url":"/locations/dallas/dal","city":"Dallas","airportUrl":"/locations/dallas/dal","couponButtonText":"See Dallas offers","mobileCouponButtonText":"Save 20%","isMarketComingSoon":false,"couponRadius":0.0},{"code":"DFW","name":"Dallas Fort Worth International Airport","spots":3,"market":"Dallas","sub":null,"locations":null,"center":{"latitude":32.896944,"longitude":-97.038056},"url":"/locations/dallas/dfw","city":"Irving","airportUrl":"/locations/dallas/dfw","couponButtonText":"See Dallas offers","mobileCouponButtonText":"Reserve and Save","isMarketComingSoon":false,"couponRadius":0.0},{"code":"DEN","name":"Denver International Airport","spots":1,"market":"Denver","sub":null,"locations":null,"center":{"latitude":39.861667,"longitude":-104.673056},"url":"/locations/denver/den/the-parking-spot","city":"Aurora","airportUrl":"/locations/denver/den","couponButtonText":"See Denver offers","mobileCouponButtonText":"Reserve to save!","isMarketComingSoon":false,"couponRadius":0.0},{"code":"BDL","name":"Hartford","spots":1,"market":"Hartford","sub":null,"locations":null,"center":{"latitude":41.7658,"longitude":-72.6734},"url":"/locations/hartford/bdl/the-parking-spot","city":"Windsor Locks","airportUrl":"/locations/hartford/bdl","couponButtonText":"GET THE COUPON","mobileCouponButtonText":"GET THE COUPON","isMarketComingSoon":false,"couponRadius":0.0},{"code":"HOU","name":"Houston Hobby Airport","spots":3,"market":"Houston","sub":null,"locations":null,"center":{"latitude":29.645556,"longitude":-95.278889},"url":"/locations/houston/hou","city":"Houston","airportUrl":"/locations/houston/hou","couponButtonText":"See Houston offers","mobileCouponButtonText":"Save 20%","isMarketComingSoon":false,"couponRadius":0.0},{"code":"IAH","name":"Houston George Bush Intercontinental Airport","spots":3,"market":"Houston","sub":null,"locations":null,"center":{"latitude":29.984444,"longitude":-95.341389},"url":"/locations/houston/iah","city":"Humble","airportUrl":"/locations/houston/iah","couponButtonText":"See Houston offers","mobileCouponButtonText":"Reserve to save!","isMarketComingSoon":false,"couponRadius":0.0},{"code":"MCI","name":"Kansas City International Airport","spots":1,"market":"Kansas City","sub":null,"locations":null,"center":{"latitude":39.2975,"longitude":-94.713889},"url":"/locations/kansas-city/mci/the-parking-spot","city":"Kansas City","airportUrl":"/locations/kansas-city/mci","couponButtonText":"See Kansas City offers","mobileCouponButtonText":"5% OFF PARKING","isMarketComingSoon":false,"couponRadius":0.0},{"code":"LAX","name":"Los Angeles International Airport","spots":2,"market":"Los Angeles","sub":null,"locations":null,"center":{"latitude":33.9425,"longitude":-118.408056},"url":"/locations/los-angeles/lax","city":"Los Angeles","airportUrl":"/locations/los-angeles/lax","couponButtonText":"See Los Angeles offers","mobileCouponButtonText":"Reserve to save!","isMarketComingSoon":false,"couponRadius":0.0},{"code":"BNA","name":"Nashville International Airport","spots":1,"market":"Nashville","sub":null,"locations":null,"center":{"latitude":36.126667,"longitude":-86.681944},"url":"/locations/nashville/bna/the-parking-spot","city":"Nashville","airportUrl":"/locations/nashville/bna","couponButtonText":"See Nashville offers","mobileCouponButtonText":"10% OFF PARKING","isMarketComingSoon":false,"couponRadius":0.0},{"code":"EWR","name":"Newark Liberty International Airport","spots":3,"market":"New York Newark","sub":null,"locations":null,"center":{"latitude":40.6925,"longitude":-74.168611},"url":"/locations/new-york-newark/ewr","city":"Newark","airportUrl":"/locations/new-york-newark/ewr","couponButtonText":"See Newark offers","mobileCouponButtonText":"$69.95/week","isMarketComingSoon":false,"couponRadius":0.0},{"code":"LGA","name":"New York La Guardia Airport","spots":1,"market":"New York Newark","sub":null,"locations":null,"center":{"latitude":40.77725,"longitude":-73.872611},"url":"/locations/new-york-newark/lga/the-parking-spot","city":"East Elmhurst","airportUrl":"/locations/new-york-newark/lga","couponButtonText":"See New York offers","mobileCouponButtonText":"5% OFF PARKING","isMarketComingSoon":false,"couponRadius":0.0},{"code":"MCO","name":"Orlando International Airport","spots":1,"market":"Orlando","sub":null,"locations":null,"center":{"latitude":28.429444,"longitude":-81.308889},"url":"/locations/orlando/mco/the-parking-spot","city":"Orlando","airportUrl":"/locations/orlando/mco","couponButtonText":"See Orlando offers","mobileCouponButtonText":"Reserve to save!","isMarketComingSoon":false,"couponRadius":0.0},{"code":"PHL","name":"Philadelphia International Airport","spots":1,"market":"Philadelphia","sub":null,"locations":null,"center":{"latitude":39.871944,"longitude":-75.241111},"url":"/locations/philadelphia/phl/the-parking-spot","city":"Philadelphia","airportUrl":"/locations/philadelphia/phl","couponButtonText":"See Philadelphia offers","mobileCouponButtonText":"Reserve a spot!","isMarketComingSoon":false,"couponRadius":0.0},{"code":"PHX","name":"Phoenix Sky Harbor International Airport","spots":2,"market":"Phoenix","sub":null,"locations":null,"center":{"latitude":33.434167,"longitude":-112.011667},"url":"/locations/phoenix/phx","city":"Phoenix","airportUrl":"/locations/phoenix/phx","couponButtonText":"See Phoenix offers","mobileCouponButtonText":"Reserve to save!","isMarketComingSoon":false,"couponRadius":0.0},{"code":"PIT","name":"Pittsburgh International Airport","spots":1,"market":"Pittsburgh","sub":null,"locations":null,"center":{"latitude":40.491389,"longitude":-80.232778},"url":"/locations/pittsburgh/pit/the-parking-spot","city":"Coraopolis","airportUrl":"/locations/pittsburgh/pit","couponButtonText":"See Pittsburgh offers","mobileCouponButtonText":"Reserve to save!","isMarketComingSoon":false,"couponRadius":0.0},{"code":"SLC","name":"Salt Lake City International Airport","spots":1,"market":"Salt Lake City","sub":null,"locations":null,"center":{"latitude":40.7899,"longitude":-111.9791},"url":"/locations/salt-lake-city/slc/the-parking-spot","city":"Salt Lake City","airportUrl":"/locations/salt-lake-city/slc","couponButtonText":"GET THE COUPON","mobileCouponButtonText":"GET THE COUPON","isMarketComingSoon":false,"couponRadius":0.0},{"code":"STL","name":"St. Louis Lambert Airport","spots":4,"market":"St. Louis","sub":null,"locations":null,"center":{"latitude":38.747222,"longitude":-90.361389},"url":"/locations/st-louis/stl","city":"St. Louis","airportUrl":"/locations/st-louis/stl","couponButtonText":"See St. Louis offers","mobileCouponButtonText":"Reserve to save!","isMarketComingSoon":false,"couponRadius":0.0}],"multiplierNumber":null,"multiplierText":null,"multiplierPoints":null,"text":null,"linkText":null,"couponText":null,"couponPath":null,"homePageSettings":null,"couponId":null,"customerCouponID":null,"facilityInfo":null,"ReservationDiscountPromoMessages":{"CouponDescriptionReplacementPromo":null,"DiscountDescriptionPromo":null,"FacilityHeadingPromo":null,"ReservationButtonPromo":null,"Any":false,"NotEmptyCouponDescriptionReplacementPromo":false,"NotEmptyDiscountDescriptionPromo":false,"NotEmptyFacilityHeadingPromo":false,"NotEmptyReservationButtonPromo":false},"ReserveButtonText":"Reserve \u0026 Save"}
Your Company Benefits:


Discounts on Airport Parking

Earn free rewards from accumulated stays

Manage your expenses with Concur, Expensify and Certify

Expense Reports delivered monthly

Well - lit and always open

Luggage Assistance

Continuous friendly shuttle service

Corporate Account Benefits
Reservations
Reserve a spot and manage your reservation anytime online or through The Parking Spot App.

Expense Tracking
Integrate with your favorite expense tracking services including, Concur, Expensify, Certify, and ChromeRiver.
Expense Reports
Get more reports with detailed breakdowns on savings using our corporate account vs retail account.
Mobile App
Always know where your ride is. Track our shuttles through the airport upon your return home from your trip.
Go Ticketless
Use your Spot Club card at entry and exit, to get on your way quicker.

Mobile Checkout*
Connect your Spot Club account with a credit card and use our app for a quick exit.
* not at all locations.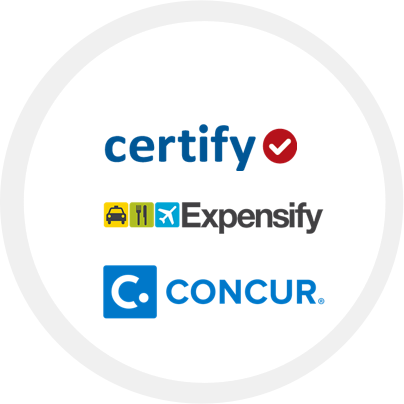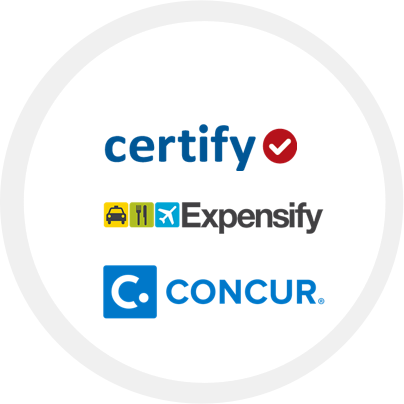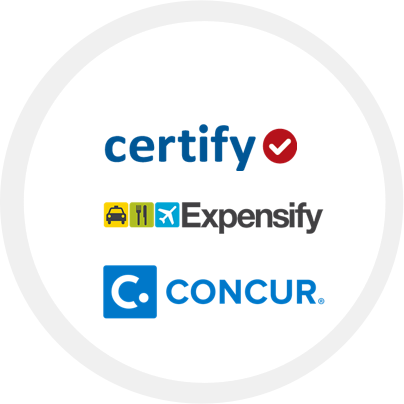 Expense Providers
Automate your expense tracking process with our provider integrations

Our platform integrates seamlessly with the most popular expense tracking providers including Certify, Expensify, Concur, and ChromeRiver

HOW IT WORKS
Get In, Take Off
The Parking Spot's website makes it easy to find airport parking for your next trip.
The Parking Spot's facilities are always open for your convenience.
Have a Spot Club card? Use it instead of a ticket to enter and exit faster!
One of our spotted shuttles will either pick you up right from your car...
Take one of our clean, convenient spotted shuttles for a short ride to the airport.
Let us clean your car while you're away (available as an additional option in select locations)
On your way back, download the Parking Spot App to track our spotted shuttles, which will take you from the airport ...
Our self check-out lanes or friendly cashiers will help you be on your way.
Enjoy a complimentary bottle of water, and we'll see you next time!